---
Real Estate Portfolio Management, optimized.
Occupier helps take the guesswork out of making proactive real estate decisions,
by delivering the data tenants and their brokers need to understand their lease obligations, key clauses, critical dates, putting them in position to better manage risk and identify opportunity.
---
---
It's all about the data
By centralizing your most important lease details, documents and contacts across your portfolio, you're arming yourself with the data you need to gain valuable insights into your real estate.
---
Identify critical dates
Proactively manage future lease expirations and critical dates, such as key rights or options that impact the operational needs of your business.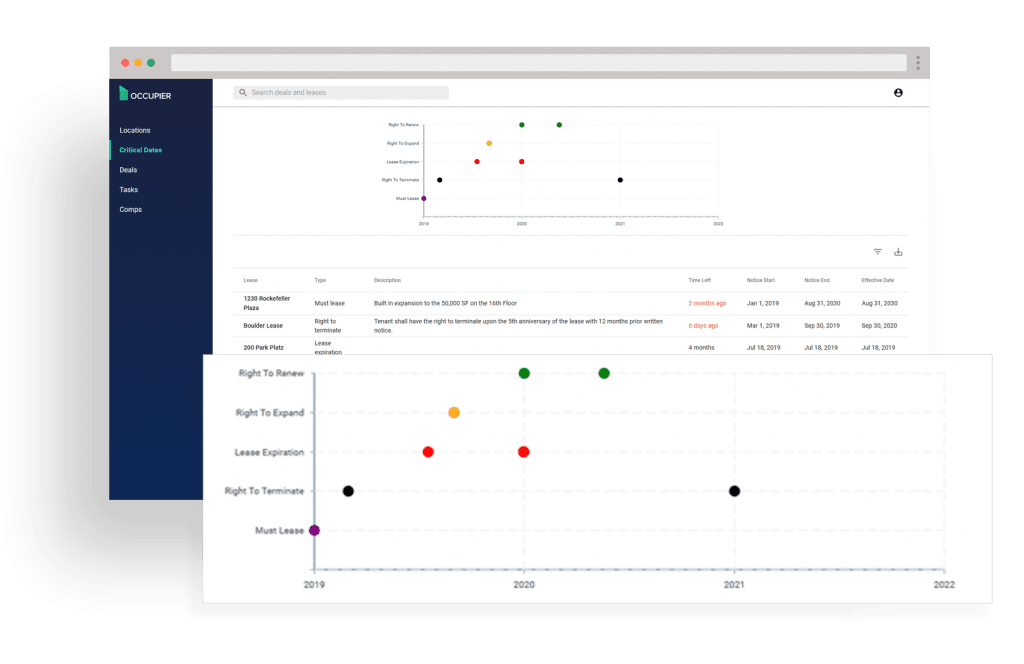 ---
Spot opportunities
Visualize your portfolio lease lifecycle, understand how you use space, and identify precisely where you have flexibility to make moves!
---
Work as a team
Know that your real estate team is on the same page, with all key stakeholders able to access relevant portfolio details and documents
---
Standardize workflows
No one likes working in uncertainty or inconsistency. Occupier helps introduce process discipline by standardizing task workflows and increasing individual and team accountability.
---
Share Information
Record every detail about your portfolio lifecycle from the start of the transaction through on-going portfolio management ensuring that your team always has the best information to make the right decisions.
---
Be proactive with your portfolio management
See why Occupier is trusted by the most successful real estate teams.
---