Marine Layer Implements Occupier for Lease Accounting + Administration
Last Updated on September 22, 2023 by Morgan Beard

Life Before Occupier:
Hours spent updating a spreadsheet for lease accounting.
All PDF lease documents were stored in a drop box.
They lack visibility into lease administration data.
Life After Occupier:
It now takes 15 minutes to update a lease schedule. A 90% time savings over past processes.
ASC 842 compliant with complete visibility of all lease data within a click.
Finance can forecast future rent schedules to predict a store's profitability.
Results:
They passed their audit with a clean review.
Can easily export / import into their accounting ERP system
The team is prepared for retail real estate expansion.
INDUSTRY: Retail | LOCATIONS: 46+ | OCCUPIER USERS: 6+
Marine Layer crafts "absurdly soft" shirts with a laid back California style. Founded in 2009, the San Francisco based retailer recently earned its B Corp certification for sustainability, environmental values, and social consciousness. The brand has scaled to more than 46 stores across the states and is not slowing down anytime soon. They are bringing a cohesive coastal California retail brand experience to their shoppers nationally.
Occupier is the tenant leasing software that Marine Layer chose to partner with in order to support their transition to ASC 842 lease accounting compliance. Kelly Ransom, the Sr. Financial Accountant at Marine Layer led their ASC 842 implementation.

With the move away from Excel spreadsheets and PDF lease documents, both the real estate team and the accounting team have elevated their lease management workflows in order to unlock brick and mortar expansion goals.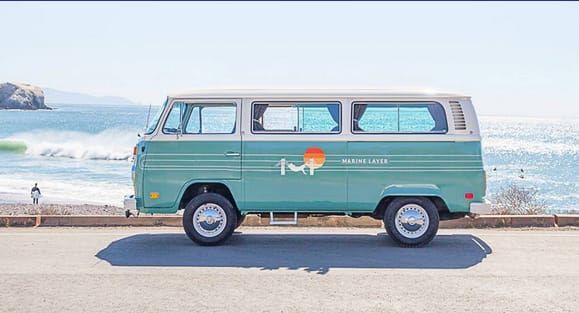 ASC 842: Clean Audit Opinion
After shopping for a leasing software that would work for both the accounting and real estate teams, Marine Layer chose to implement Occupier due to its modern, easy to use interface, and the fact that it enables collaboration between both real estate and accounting teams.
According to Kelly Ransom, "under ASC 840 our lease accounting processes were tied to updating the income statement at the end of each year. We would reconcile our deferred rent and tenant improvement allowances for one annual journal entry, but all information for our 46 locations was stored in an Excel file. It was a large, clunky file, with limited visibility for our accounting and real estate teams.
"Occupier was super helpful throughout the entire process, especially our ASC 842 implementation consultant. He was quick to hop on many phone calls with me and really took the time to walk through any questions I had, especially during our audit.
"We got through our audit with a clean audit opinion, which is what we really wanted from the accounting-side. Occupier made for such a smooth implementation and the whole process was a low lift for me and my team. The most I had to do was track down documents and lease data. Now, our year-end close or month-end close, is plug and play. We have all our journal entries in Occupier, I just have to export and upload them to our accounting ERP software. After spending hours in the software, Occupier is really easy to navigate and use for both the real estate and accounting teams."
Retail Expansion Planning & Forecasting
"Marine Layer is continuously expanding our number of store locations. With 46 stores currently and more stores in the pipeline, lease management software enables us not only to be ASC 842 compliant but it sets up both our real estate and accounting teams to seamlessly onboard new leases. And, it allows everyone to have access to all of the same information."
For example, "in Occupier we can forecast future rent schedules and report on rent financials that help us to estimate each store's profitability both today and in the future. This feature really helps us to make decisions about current and future retail stores." In addition, when paying rent each month, Occupier is an easy tool to use to make sure our rent payments are in alignment with the rent schedules. This saves a ton of time in comparison to previously having to flip through lease documents and our excel lease schedules.
Team alignment really is the secret to expansion success, especially with ASC 842. The new standard means that the accounting team has to be more in tune with what is happening within our retail lease portfolio. And, every stakeholder from real estate to accounting, c-suite and design can have complete visibility into the lease lifecycle — from proposal to build out and move in, all the way to ASC 842 compliance.
Real Estate & Accounting Collaboration
According to Ransom, "Occupier is our one stop shop for everything lease management. Anytime a date changes or an edit is made to a lease, Occupier sends me an email. It really is a great audit trail to have, which is helpful especially as we scale and our teams evolve or grow. In addition, there are weekly automatic email reminders about important lease renewals or termination dates. This keeps both the real estate and accounting teams aligned on lease date changes or pending action items."
Another nice feature is the different user access levels in Occupier. Whenever an update is made to a lease in the accounting system, it moves the lease into a pending approval state and notifies me that there is action to be taken on said lease. This is great for accounting purposes as there are more built in controls in the lease accounting process.
Occupier creates a more automated, organized, and user-friendly process for our accounting and real estate teams.
Schedule a Demo
See how the world's fastest-growing commercial tenants use Occupier to power efficient tenant lease management workflows.