Lease Administration Management Software. For the Modern Tenant.
Never miss another critical date again
Lease Management Software
Smarter real estate starts with a lease administration software that automates your processes. With Occupier, it is easy to track your critical dates, analyze financial obligations, and access comprehensive analytics to make informed decisions. It's all possible with our top-notch commercial lease management software!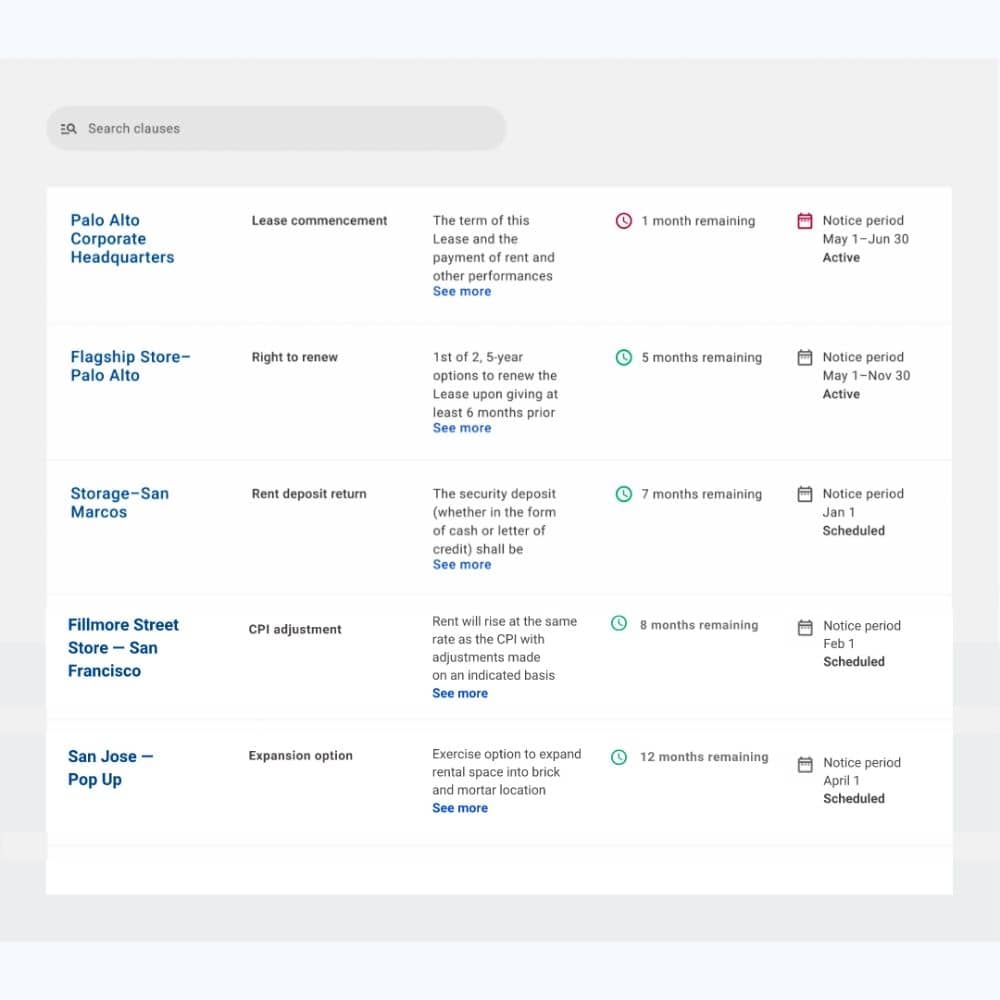 Lease Administration Software Features
Critical Dates
Our lease software automates notifications for important dates such as, rent increases, renewal options, security deposit returns, rights to terminate and many more.
Clauses
Our comprehensive lease administration services have the ability to aggregate, sort and filter all of your clauses so you can stop flipping through pages of documentation.
Financials
Easily track rent and operating expenses across your business's leased assets with our specialized real estate lease management software.
Reports
Export reports to gain unique insights into the risks and opportunities of your real estate portfolio.

Occupier Analytics Dashboards
Our powerful software for lease administration offers an analytics dashboard. It enables you to gain insight into your leased properties and make informed decisions.
Horizon Planning
Our property lease management software gives you an easy overview of your upcoming lease expiration dates and any critical deadlines that need to be addressed. Visualize the data in two simple bar graphs so you can stay on top of all your current leases!
Space Analytics
This scatter plot takes your headcount and divides it by your capacity to provide the ideal desk ratio for your space.
Expense Analytics
This section breaks down your expenses by their space type, cost type and by their additional expense type like CAM, Opex, Utilities, Percentage Rent and Other.
Totals and Averages
Analyze the totals and averages of your real estate portfolio data points including: rent obligations, leases, square footage and total additional expenses.
Lease Administration Software
Users can leverage Occupier Lease Abstraction Services to onboard every lease in your portfolio. In addition, you'll unlock the Occupier Analytics Dashboard which visually organizes your real estate data points. Unlock the full potential of this lease admin software and let it be your go-to guide in managing leases with ease.
Automation
Receive notifications on all critical dates and tasks.
Expense Tracking
Digitally manage all rental and operating expenses.
Digital Workflows
Collaborate with tasks and documentation tracking all in one dashboard.
Featured Resources
Curious how lease administration software can help your business manage its real estate portfolio? Read our articles below.

What is Software Automation and Why is it Important to Commercial Real Estate?
3 Most Common Challenges with Commercial Real Estate Management.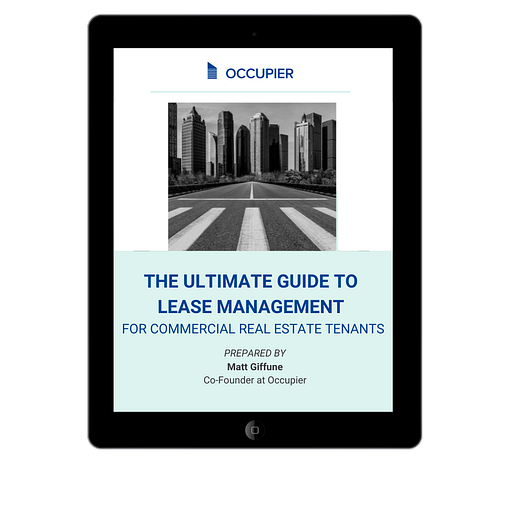 There is a better way to manage your leases
Get access to the best lease administration software available and make managing your leases a breeze. Download The Ultimate Guide to Lease Management to get started today!