---
A zero-friction lease management system built for businesses
Occupier helps your team stay in compliance with new lease accounting standards, drive better portfolio decisions, and track your deal pipeline — ensuring success in a rapidly changing marketplace.
---
---
Teams like yours love Occupier

---
---
What you can do with Occupier
---
Centralize your work
Bring your people and real estate decision processes together in one place. Know that everyone has access to the same data, files, and tasks, knowing who needs to do what, and when.
---
Automate busy work
Put an end to manual monitoring and management of critical lease dates and tasks. Automate reminders and certain processes to eliminate administrative tasks and duplication of work.
---
Make better decisions
With your team able to access key lease and deal information, it's easier to rapidly identify portfolio risks or opportunities, and make better decisions.
---
---
One connected real estate decision making platform
Occupier delivers a holistic view into active transactions, lease obligations, and ASC 842 and IFRS 16 accounting compliance.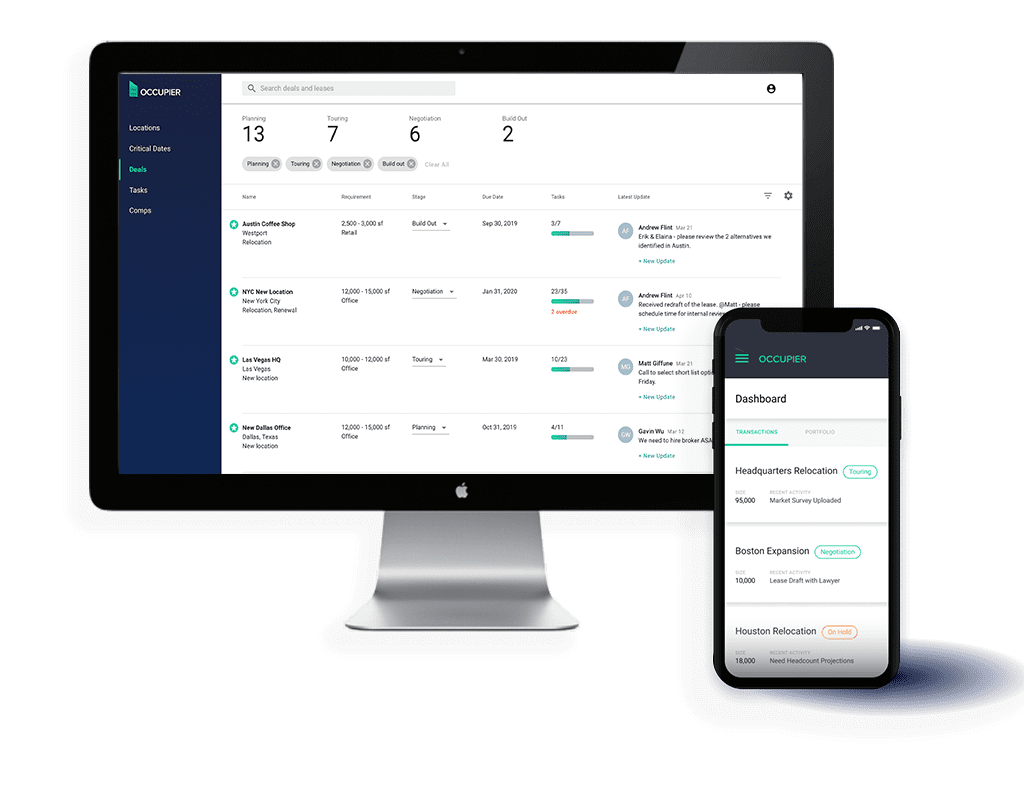 ---
Transaction Management
Start closing deals faster! Easily create, manage, and update active deals on the go, keeping track of your progress, open tasks, site selection, and market comps.
Portfolio Management & Lease Accounting
Access critical lease details and documents when you need them. Quickly identify risks and opportunities within your portfolio, and ensure lease accounting compliance.
---
---
Take control of your real estate
See why the world's leading companies use Occupier to manage the
transaction and portfolio management process.
---