Occupier – 2021 Year in Review
Last Updated on December 13, 2022 by Morgan Beard
The CRE world has never seen a year like 2021. Oh right, well, we conveniently erased 2020 from our minds. Excuse the oversight. As the pandemic sticks with us, one word comes to mind when we think about the Commercial Real Estate space: adaptation. For the Occupier ⁠— 2021 Was a Year of Adaptation.
Merriam-Webster: Adaptation: the process of changing to fit some purpose or situation; the process of adapting.
Watch our 2021 – Year in Review through the lens of the modern occupier:

Occupiers have had to be nimble and adjust their organization's real estate strategies across virtually every industry: office, retail, restaurants, industrial, etc. It is clear, that the way in which we use physical space has evolved.
Occupier – 2021 Year in Review Stats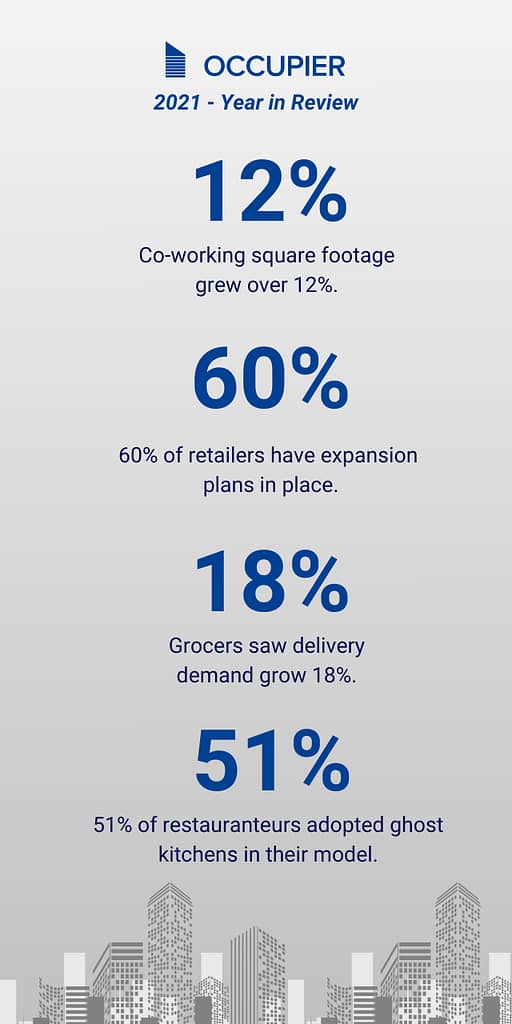 Co-Working Space
Employees are expressing a need for flexibility.

Between, back-to-work, the third workspace, hybrid models and everything in between, the traditional office is adapting to human needs. COVID helped us to evaluate how and where we work.

Employees want a place to meet, collaborate and create. The office of the future is being designed as we speak with the workplace experience being central to the employee experience. This year, the co-working space footprint grew 12%.
Brick & Mortar Retailers
The omni-channel retail approach is like fishing with nets, lines, and traps. It is integral to a brand's success. While consumers want, maybe need, the option to shop online, via mobile, on social media and/or by phone; they still also need to see, feel, and experience the brand in-person.

Brand and real estate go hand-in-hand. Real estate is the physical manifestation of your who, what, where, and why. So, 60% of retailers have expansion plans in place. RetailSphere
Grocery Delivery
The grocery delivery game was catapulted into prominence during COVID.

In 2020, online grocery sales grew a tremendous 54%.That trend continued this year as grocers saw online delivery demand grow 18%, in 2021, emarketer. Convenience, safety, and time savings are the root driver. And the pedal is to the metal.
Ghost Kitchens
Wild stat – more than 50% of restaurateurs incorporated the ghost kitchen model in 2021. CloudKitchens.com

Restaurants have endured numerous COVID challenges. Staff shortages, closures, mask mandates, and regulation, just to name a few.
What ghost kitchens did was unlock new opportunities for restaurants. "Ghost kitchens are 100% here to stay," said Matt Giffune, Occupier Co-Founder via REJournals.
Warehouse Space
E-commerce is a hot topic right now. From ordering Christmas presents, to groceries, and cleaning supplies, just about anything can be delivered to your doorstep.

The insane adoption of quick service delivery has disrupted the supply chain and caused an explosion in warehouse space growth. Warehouse storage grew 25%. With demand for storage facilities and distribution centers skyrocketing to over 1 billion square feet this year, according to ABCNews.
What's in store for 2022
While clairvoyance is not our strong suit, we do foresee a continuation of many of the 2021 trends.

We are starting to see organizations testing, learning and refining their real estate strategies. From implementation of third workspaces to micro-warehouses sprouting in urban areas for last mile delivery and virtual restaurants building brand names via food ordering apps. Real estate is central to each of those business models and will continue to be a strategic piece of their puzzle.

Learn how you can take control of your real estate portfolio with Occupier.