Fully Occupied Scoop: November 2021 Newsletter
Last Updated on August 22, 2022 by Amanda Lee
🦃 We Hope You Had A Festive Thanksgiving!
The holiday season is officially here; flights are full, gas has skyrocketed and both office + retail occupiers are seeing tremendous growth. A report by Retailsphere estimates that 60% of retailers have expansion plans over the next 12 months. Another report from Colliers in Q3 2021 shows that net absorption has turned positive in 56% of the metros. All of which, is reason enough for holiday cheers going into December.
🌇 CRE Growth & Recovery
Here's how the largest US office markets fared last month
"Twelve of the largest US office markets showed signs of recovery in October, as more tenants seeking space entered the market across many of the top cities coast to coast." CBRE
Surprise! Retailers are opening more stores in 2021 than they are closing
"According to the RetailSphere, 52% of grocery-based retailers are expanding today, while 52.5% of fast-casual restaurants are doing the same." RE Journals
CRE Investors shouldn't be spooked by ghost kitchens
"Ghost kitchens are poised to become a new niche real estate market. The location of a ghost kitchen is crucial, as this enables kitchens to quickly bring orders to the homes or offices where they're placed." Propmodo
🍦 So, What's the Scoop?
The CRE future looks bright for both retailers and office occupiers as we cruise into 2022. Initial forecasts predict expansion for both sectors with an increased interest in in-person interaction. What will set your space apart? The tenant experience. Reimagining your workplace and retail footprint to embody a human-centric strategy first will enable people happiness and productivity.
💡In other news – Lease Accounting
The lease accounting guidelines are set to go live in 2 short weeks, with December 15, 2021 as the transition date for private and non-profit companies. FASB officially announces that they will NOT be extending the ASC 842 compliance deadlines.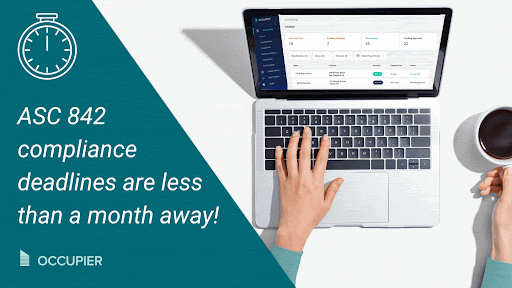 📣 In the Product!
Occupier's product demo videos are live! Get a behind-the-scenes look of the Occupier product modules.
🔔 Coming Up
Join our Co-Founder, Matt Giffune on a panel discussion hosted by our friends, CrowdComfort, discussing the Return to the Workplace: How do we earn employee trust back?