---
Occupier Transaction Management
Occupier delivers a 360-degree view of the lease transaction lifecycle,
making it easier to organize critical tasks, manage site selection, track the market and execute deals.
---
---
Collaborate with your team
Create deal teams, ensuring seamless communication, data collection and document management across all relevant stakeholders.
---
Keep processes moving
Standardize your transaction process through project templates. Be confident that your critical tasks are getting done, and alert teammates when the ball is in their court.
---
Make smarter decisions
Leverage your lease, deal and comp information in one place to make better leasing decisions for your business.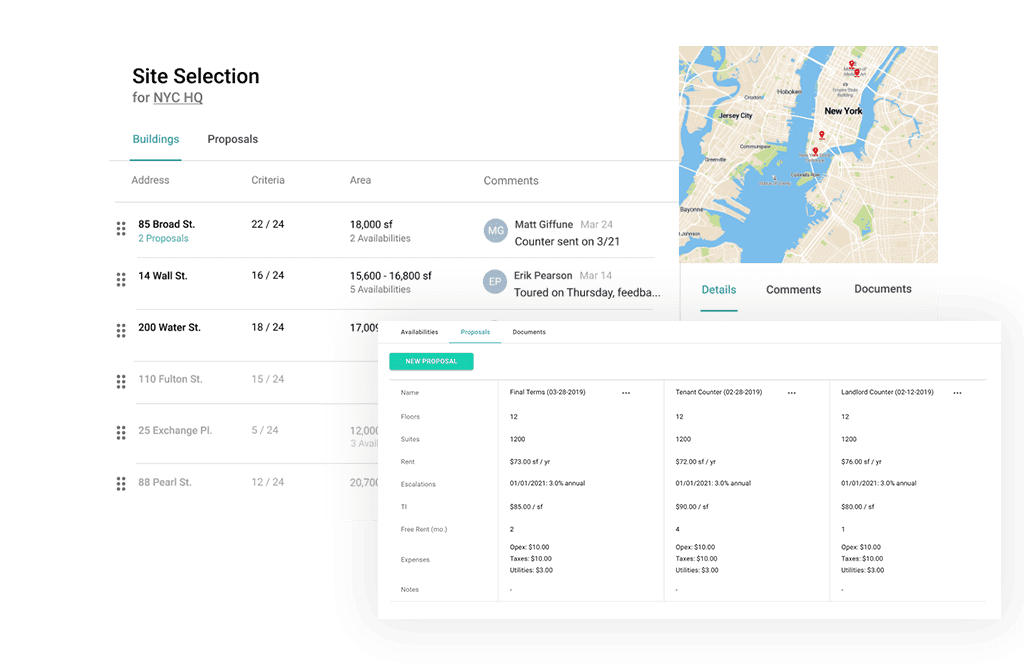 ---
Get to know your transaction management tools
With the right tools at your fingertips to close deals, Occupier becomes an extension of your team.
---
Deal Updates
Share status changes regarding tasks, proposals, comps, and more in real-time.
Task & Project Management
Standardize your real estate transaction process, assigning due dates and responsibilities to the appropriate person.
Site Selection
Document all potential buildings of interest, including location, availabilities, rent, floor plans, and all other relevant details.

Proposal Tracking
Track the back and forth negotiation between you and the landlord. Compare deal terms of your shortlisted buildings to help make the right decision.
Deal Comps
Negotiate from a position of strength by collecting and analyzing the most relevant comp data for the decision at hand.

Document Management
Upload, edit, and store all your important documents and files pertaining to the deal. Sync with your Google Drive, Dropbox, Box or more.
---
Don't let chaotic processes be a deal breaker
See why teams like yours trust Occupier to help them streamline the real estate transaction process.
---