Fully Occupied Scoop: July 2023 Newsletter
Last Updated on July 28, 2023 by Amanda Lee
🍨 Happy National Ice Cream Month!
As the summer sun shines bright, we're excited to bring you the coolest edition of The Fully Occupied Scoop. The commercial real estate market continues to show promising signs of growth and recovery, much like the lines outside your favorite ice cream parlors on a hot summer day!
In recent years, the dining landscape has undergone a significant transformation with the rise of the "snack culture" becoming a defining trend in the food industry. This shift towards more casual and quick bites has had a profound impact on the dynamics of socialization and consumer behavior, particularly within the realm of restaurants and entertainment retailers.
🍽️ Word on the street – Dessert & coffee are the new main courses for diners
Dessert as the main course is a rising restaurant trend
"As inflation continues to have its effect on dining-out trends, consumers are becoming more selective and creative with how they experience full-service restaurants… the latest fad appears to be a nice compromise: dining out at a sit-down restaurant that primarily caters to desserts" The Crittenden Report
Snacking and Socialization: A Successful Formula for Serving Customers in 2023
"A number of consumers could be driven to dine out to connect with other people, given that only 35% now are in an office or other workplace daily, and 1 in 5 who work from home at least part-time say they miss seeing co-workers and socializing." Mondelez International
Summer ice cream flavors, trends that consumers are ready to scoop up
"The global ice cream market was valued at $79billion in 2021 and is expected to grow by a 4.2% CAGR from 2022 to 2030, due in part to innovative flavors and as health-conscious consumers demand better-for-you options, including dairy-free and vegan ice creams. " Food Navigator
🍦 So, What's the Scoop?
The increasing popularity of snacking has led to a significant transformation in traditional restaurant models. As consumers continue to seek memorable experiences, the demand for these specialty eateries will keep rising. These concepts create a convivial atmosphere where patrons can socialize, engage in conversations, and savor diverse culinary experiences in a relaxed setting.
Whether it's an artisanal gelateria or a quaint neighborhood ice cream parlor, these retailers have proven that they're here to stay, adding a touch of sweetness to the ever-evolving world of commercial real estate.
Occupier ❤️'s Ice Cream!
Team Occupier loves ice cream almost as much as we love leases!
🌟 OCP Employee Spotlight
Get to know Austin from our Lease Accounting Team!
Why do you love working at Occupier?
I love the exposure to all the different aspects of the company that I get. It's hard to find a role where you get to work with so many different amazing people and see the tangible impacts of your work every day- super rewarding!
What is your favorite memory at Occupier thus far?
Definitely the Austin all-hands! It was amazing getting to meet all of my remote colleagues and build connections in person.
What is your favorite thing to do outside of work?
Hard to pick just one thing but probably a toss-up between playing and watching sports, anything outdoorsy (walking the dog, hiking, paddle boarding), and cooking/trying new restaurants!
What's your favorite movie of all time? 
Billy Madison.
What travel destination would you recommend? 
Bolivia- it has everything from mountains to rainforest to desert and the culture was incredible!
What's the best piece of advice you've ever received? 
A mentor early on in my career told me to never say no to an opportunity- no matter how uncomfortable it may make you feel. I can truthfully say that my career would not be where it is today without receiving that advice!
Check out Austin's takeover on our Instagram Story!
🎙️ Latest on the Fully Occupied Podcast
Chris Ressa joins Matt to discuss the debate of digital vs. physical stores and dive into Chris's predictions on where the retail real estate market is headed.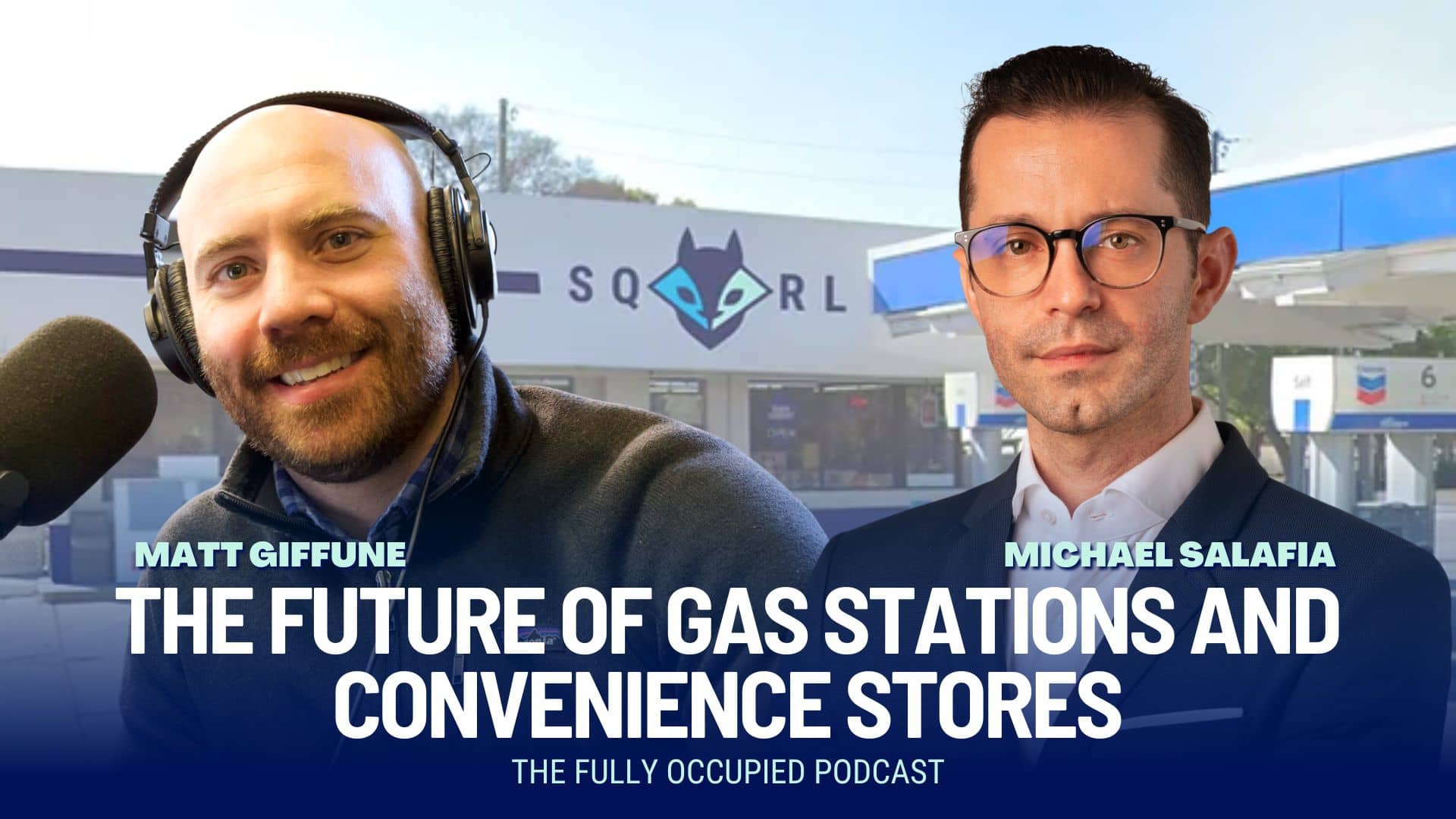 Michael Salafia joins Matt to talk about how gas stations like SQRL, are so much more than just a place to fill up. But rather, safe places to eat, grab a coffee and charge your electric vehicle.
🎙️ Interested in being on Fully Occupied?
The Fully Occupied Podcast is all about bringing together the CRE, proptech, and tenant-rep broker world to share their stories in this ever-evolving space.