Fully Occupied Scoop: November 2022 Newsletter
Last Updated on February 9, 2023 by Morgan Beard
🎁 'Tis The Season To Go Shopping
The holiday season is off to a great start for retailers! Consumers are embracing the in-person shopping experiences and beginning their holiday purchasing earlier this year. In fact, US in-store retail sales on Black Friday rose 12% YOY.
Black Friday Foot Traffic Up 2.9% As Shoppers Return To Stores
"The strong traffic numbers for Black Friday show that shoppers are returning to stores and enjoying the socialization the holiday brings," Forbes
Retail real estate continues climb, reaches record low availability
"Retail real estate is racking up positive signs in the wake of the pandemic, sporting record low availability in the third quarter. Retail availability dropped nearly a full percentage point year-over-year across the country to 5% last quarter" TheRealDeal
RetailNext Announces Sales And Traffic Data For Black Friday 2022
"The story of the U.S. retail sector has been one of incredible resilience. For the period of Sunday through Thursday, 2022 traffic was down just 1.1% compared to the same period in 2021." EIN News
🍦 So, What's the Scoop?
The unexpected increase in foot traffic from this year's Black Friday paves the way for a bright future for retail real estate. With more confidence in the return of brick and mortar, retailers and restaurateurs need to lock in their real estate strategy and growth goals as retail vacancies rise. While in-person experiences are on the road to recovery since the pandemic, inflation and economic uncertainty are driving interest rates up.
🗣️ 2022 CoreNet Global Summit in Chicago
We sat down with Occupier's Co-Founders, Matt Giffune and Andrew Flint to hear their takeaways from @CoreNetGlobal Summit 2022 in Chicago!
One common thread is that the future of work is being re-written as we speak. C-Suite execs are navigating the meaning of office space and how it serves their employee base. The foundation of that process is understanding your employees and crafting a real estate strategy that speaks to them and your organization.
🗽 Visit us at ICSC New York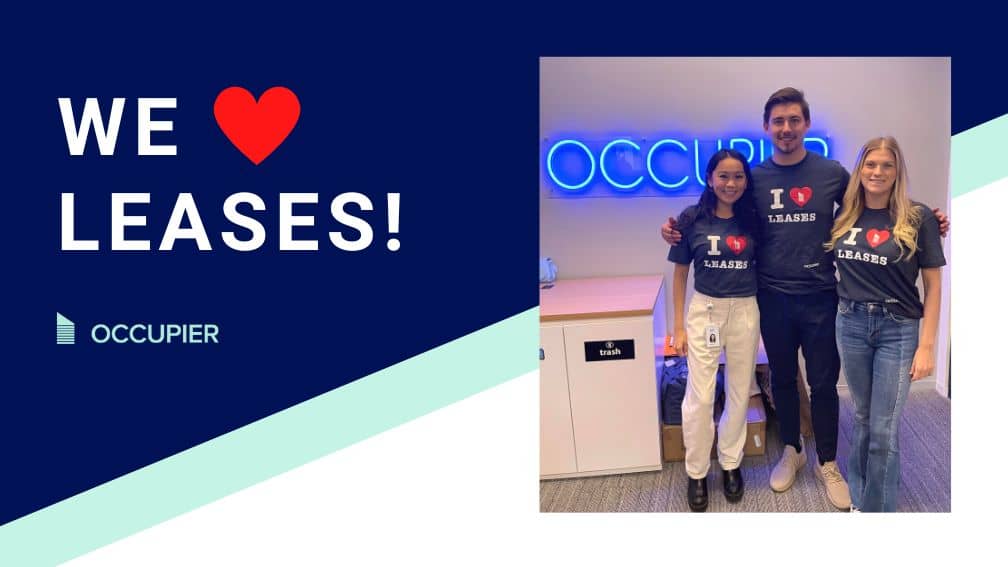 Are you heading to ICSC New York? Do you love leases?
If the answer is yes to both, make sure to stop by Booth 1569 for an I ❤️Leases shirt!
🎙️ Latest on the Podcast
🎙️ Interested in being on Fully Occupied?
The Fully Occupied Podcast is all about bringing together the CRE, proptech, and tenant-rep broker world to share their stories in this ever-evolving space. Apply to be on the podcast!